Large Pontoon Console
SKU: KMST-Gray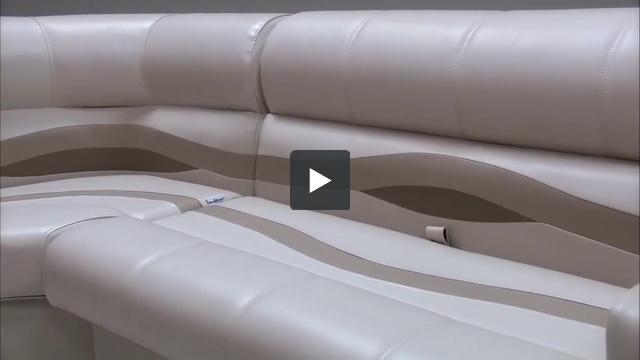 Premium Pontoon Boat Seats.
Plush, pillowed pontoon boat seats with quality double top stitching for that new boat look.
Our pontoon seats will last! The quality of your vinyl and foam won't matter if your seams tear or rot that's why we only use the best UV and mildew treated polyester thread.

30 oz marine grade seat vinyl is coated and treated to exceed industry standards for UV and mildew resistance.

Each foam pontoon boat seat cushion is built with a mix of soft & dense foam to give you support and comfort where it matters most.

Seat bases with molded drain channels increase the life of your pontoon flooring by allowing water to escape your deck instead of being trapped and left to soak into your carpet and decking.
No wood! Enclosed plastic seat bases for storage and high impact plastic seat cushion frames will never rot or break. DeckMate® pontoon furniture has a lifetime warranty on all frame parts.
Overall Pontoon Seat Dimensions:
Overall Width: 41"
Overall Height: 38"
Overall Depth: 21"
2 piece rotationally molded plastic captain stand makes installation easy

Removable access panel under dash allows you to bolt down top after you have installed all your steering and electrical item

If you add the gauge and switch panels, they will not be pre-installed.
PontoonStuff
® Quality Promise
Our success is tied directly to our ability to provide good customer service. If your pontoon boat furniture arrives with any defects or quality issues we will pay to return and replace your seating immediately. Simply contact us and we will take care of everything. 
Industry leading warranty - 5 year full replacement of any defective pontoon furniture.

We pay all shipping costs associated with any defects or warranty, no cost to you.

100% transferable warranty - if you sell your boat the buyer is covered, just provide us with an original order number.
PontoonStuff® Quality Promise
Our success is tied directly to our ability to provide you with quality products and the best customer service. Quality and excellent service are our top priority!
Industry leading warranty - 5 year full replacement on any defective pontoon furniture. No other pontoon boat seat manufacturer offers this level of service because no other manufacturer uses the same quality of materials.
If your pontoon boat furniture arrives with any defects or quality issues, we will pay to return and replace your pontoon boat seats immediately.
We pay all costs associated with any damaged or defective seating. There is never any cost to you.
100% transferable warranty - if you sell your pontoon boat, the buyer is covered. If you're a second owner, just provide us with the original owner's name or order number.
You're making a big investment with your time and money when you choose to restore a pontoon boat. Making sure all of our customers know we will support them after the sale is important to us. We will take care of any problems you have quickly and at no cost to you, as we personally warranty everything we sell.
Our History
PontoonStuff® was founded on the idea that rebuilding a pontoon boat should be affordable and that you shouldn't need a payment to get that new boat feeling. With factory-grade pontoon furniture, flooring, and parts, we make it affordable to have a great-looking pontoon boat again!
Here are some quick facts about us:
We've been in business since 2005, and have helped over 200,000 customers fix up their pontoons. We sell to an average of 35,000 new customers per year.
We sell more replacement pontoon boat seats than all other marine retailers combined, and focus on offering everything you need for your pontoon restoration.
Designing, building, and selling our pontoon boat seats directly gives us a big advantage: We can invest more in quality because we control the entire process. 
All products are stocked and shipped from our facilities in Elkhart, IN and Dalton, GA.
Before building our own DeckMate brand of pontoon furniture in 2012, we sold nearly every brand of replacement pontoon seating, so we understand what makes a high-quality seat. Because of our experience with other seat brands, we knew where to focus our efforts in order to offer superior quality pontoon boat seats.
Does the premium package on the console have a wiring harness?

It does now! We did not include it but after your question I decided it makes sense that it should be in the package so now it is. Thank you for the suggestion!

Does the steering gear need to be reinforced with wood or a metal stiffener? Or, can I just install it directly on the rotomolded plastic?

You can install it directly to the pontoon console. We have designed the dash to reinforce this area so you'll be just fine. Thank you for your business.

When I add optional electronics's package to console, does it come installed to console?

The options do not come installed on to the pontoon console. We do include instructions and templates that should make the task of assembling rather easy.

The steering wheel does come with the premium package, correct?

Yes! The Large Pontoon Console does include a Steering Wheel in the package.

didn't see where my question was sent, so am repeating...I just received the premium console with electronics package, weren't there supposed to be instructions and template to cut out for switch panel? Also could notified screws for mahogany gauge blank panel. Those included or buy elsewhere? Thanks

We do include instructions and templates for the different gauges and switch panels. Please contact us at Support@PontoonStuff.com and we can email you copies of these. Thank you

Does this console have a glove box option? If so what is the cost?

Our Large Pontoon Console does have a Glove Box option. It will need to be purchased separately.

I have a side mounted control on my current console , can the side mount control be mounted to the side ?

With the Large Pontoon Console, there can be a side mounted control added. It may take some modification but we have seen customers do it. But, there is not a slot designed for it located on the Large Pontoon Console.

Do you offer a blank Burl Wood plate for the left side of console where the stereo would be? I think it would make the console have a symmetric/uniform appearance. I will be selecting the fully wired switch panel with blank burl wood gauge plate.

Unfortunately, we do not have that option available at this time. We are looking into getting more and more options for the Large Pontoon Console.

I already purchased the console but did not investigate further to purchase the premium guage and wheel package. do you have a separate part number so that i can purchase it? I assume the price is the $499.00.

To place an order for those parts you would need to call into our Customer Service at 877-295-9522 and they will be able to place an order for the Premium Gauge Panel and Pontoon Steering Wheel.
Reviews for
Large Pontoon Boat Console
Craig Curtis
from
Overland Park, KS
on
Dec 06, 2013
I had plenty of room to add everything I needed to this console. I did have to trim the windshield a little for my fishfinder but it still looks great! I had a broken cupholder when the console arrived. After sending an email to Annette the replacement was here in 2 days. Pontoon Stuffs customer service is 5 stars as well! Thanks again Pontoon Stuff!