Premium Pontoon Bucket Seats
SKU: BS-300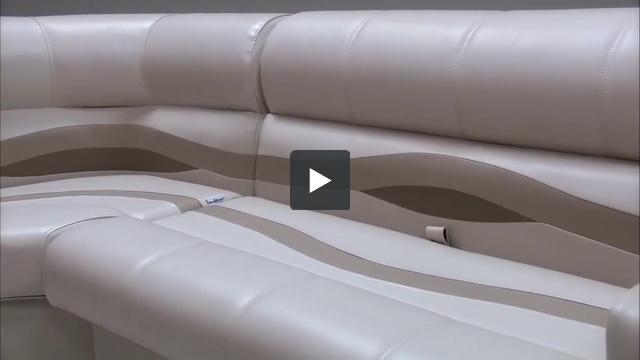 Premium Pontoon Boat Seats.
Plush, pillowed pontoon boat seats with quality double top stitching for that new boat look.
Our pontoon seats will last! The quality of your vinyl and foam won't matter if your seams tear or rot that's why we only use the best UV and mildew treated polyester thread.

30 oz marine grade seat vinyl is coated and treated to exceed industry standards for UV and mildew resistance.

Each foam pontoon boat seat cushion is built with a mix of soft & dense foam to give you support and comfort where it matters most.

Seat bases with molded drain channels increase the life of your pontoon flooring by allowing water to escape your deck instead of being trapped and left to soak into your carpet and decking.
No wood! Enclosed plastic seat bases for storage and high impact plastic seat cushion frames will never rot or break. DeckMate® pontoon furniture has a lifetime warranty on all frame parts.
Overall Pontoon Seat Dimensions:
Overall Seat Width: 23"
Overall Seat Height: 26"
Overall Seat Depth: 24"
Overall Seating Space: 22" Width x 18" Depth

Mounting hardware for pedestal is not included
PontoonStuff
® Quality Promise
Our success is tied directly to our ability to provide good customer service. If your pontoon boat furniture arrives with any defects or quality issues we will pay to return and replace your seating immediately. Simply contact us and we will take care of everything. 
Industry leading warranty - 3 year full replacement of any defective pontoon furniture.

We pay all shipping costs associated with any defects or warranty, no cost to you.

100% transferable warranty - if you sell your boat the buyer is covered, just provide us with an original order number.
PontoonStuff® Quality Promise
Our success is tied directly to our ability to provide you with quality products and the best customer service. Quality and excellent service are our top priority!
Industry leading warranty - 3 year full replacement on any defective pontoon furniture. No other pontoon boat seat manufacturer offers this level of service because no other manufacturer uses the same quality of materials.
If your pontoon boat furniture arrives with any defects or quality issues, we will pay to return and replace your pontoon boat seats immediately.
We pay all costs associated with any damaged or defective seating. There is never any cost to you.
100% transferable warranty - if you sell your pontoon boat, the buyer is covered. If you're a second owner, just provide us with the original owner's name or order number.
You're making a big investment with your time and money when you choose to restore a pontoon boat. Making sure all of our customers know we will support them after the sale is important to us. We will take care of any problems you have quickly and at no cost to you, as we personally warranty everything we sell.
Our History
PontoonStuff® was founded on the idea that rebuilding a pontoon boat should be affordable and that you shouldn't need a payment to get that new boat feeling. With factory-grade pontoon furniture, flooring, and parts, we make it affordable to have a great-looking pontoon boat again!
Here are some quick facts about us:
We've been in business since 2005, and have helped over 200,000 customers fix up their pontoons. We sell to an average of 35,000 new customers per year.
We sell more replacement pontoon boat seats than all other marine retailers combined, and focus on offering everything you need for your pontoon restoration.
Designing, building, and selling our pontoon boat seats directly gives us a big advantage: We can invest more in quality because we control the entire process. 
All products are stocked and shipped from our facilities in Elkhart, IN and Dalton, GA.
Before building our own DeckMate brand of pontoon furniture in 2012, we sold nearly every brand of replacement pontoon seating, so we understand what makes a high-quality seat. Because of our experience with other seat brands, we knew where to focus our efforts in order to offer superior quality pontoon boat seats.
Click the Ask a Question button.
Do the backs of these seats fold down?

The back of these pontoon seats do not fold down.

Wanting to make sure and match the blue color of the furniture you offer to my railing I am having wrapped. Can you provide me with a Pantone Number and Exact Blue Color that is used?

Unfortunately, we cannot. We do offer free samples of the vinyl that will allow you to see the exact color. https://www.pontoonstuff.com/pages/request-free-samples

Are you discontinuing the ivory, tan and beige?? I have started stripping my boat so before I change the fence, I want to know it's still going to be available in all pieces. Also, I really like this chair but it looks like it might be going away as well??

Nope! We will offer the Tan and Beige for a LONG time. It is one of our better selling colors! If you ever want to check up on it please feel free to ask.

Hello Om your website i See the primium Bucket Seat SKU: BS-302 i love this Seat but i see that you not ship international but can you tell me the brand of the Seat so i van check iT overhere Thanks mike

The brand of the bucket seat you are referring to is DeckMate. It is our brand and not available anywhere else. We would be happy to work with you so you can order our pontoon bucket. Please e-mail us at Support@pontoonstuff.com and we will be happy to help you.

At one time, I believe you carried a larger captain's chair with flip up armrests. Do you see that option being available again?

Yes, we did and were not completely happy with the design. We have fiinshed redesiging the seat and will have it back into production and our site very soon.

What is the weight limit?

For this bucket seat this is no weight limit, it is strong enough to hold anyone that can fit into it. We've reinforced the framework and it's solid rotationally molded plastic so there really isn't anyway to break it unless you stick it in a press and crush it :) If by some odd change something were to happen to the framework, defective molding that cause something to crack we will replace it. We have a 5 year warranty on upholstery and a lifetime warranty on the framework.

Is the base of the captains chair constructed for easy attachment to the a standard sliding base plate? Does it come with attachment hardware? Diagram with dimensions would be very helpful.

Yes it is and you can mount any standard seat pedestal slide or any standard 4 bolt mount. T-nuts are inserted into the bottom of the framework so you can attach your slide or pedestal mount directly to the frame. Stainless bolts are included and are threaded into the t-nuts under the seat. We have built our captains chair frame with additional support structures so you don't need a special mounting plate, just bolt your mount or slider directly to the chair.

Do the pedestals swivel

Yes, the Pontoon Boat Pedestal will sviwel with our Bucket Seats.

Is it possible to just buy the seat plate as we have the pedestal?

We do offer these Premiumt Pontoon Bucket Seats without the pedestal. They are $219.99. If you add a pedestal its jumps to $269.99

Do the Bucket Seats come with an attached seat swivel ?

Our Pontoon bucket seats do not come with the attached seat swivel. Those can be purcahsed when you order a new boat seat pedetal. I have attached a link to our seat pedestals.    https://www.pontoonstuff.com/products/adjustable-boat-seat-pedestal-1

What size bolts are required to attach the seat to the pedestal? We bought both from you and bolts were not included.

The seat should have preinstalled bolts on the bottom of the seat to mount the pedestal to the seat mount. The size is 1/4" #20 bolt that is 1 1/2" long

I just purchased the captains seat and unfortunately there were no stainless bolts included as mentioned. What size are they? I will go to my local hardware store and purchase the correct ones. Thanks

The bolts for the Bucket Seat are pre installed in the bottom of the Bucket Seat. You will need to get them out to apply them to the pedestal base.

Can the Pontoon bucket seat be attached to a standard king pin pedestal? Or do you recommend the slide pedestal for sturdiness?

Yes, this Bucket seat should work just fine with a King Pin Pedestal. They use the same mounting locations for the base.
John
from
Ohio
on
Aug 13, 2016
I absolutely love this chair. The pictures do not do it justice. Good quality and comfortable. It is definitely well worth the money. I love ordering from pontoon stuff, the service and shipping times are top notch.
Craig Curtis
from
Overland Park KS, Truman Lake, MO
on
Jun 10, 2014
This seat is fantastic! I bought it for the wife for an admirals chair at the bow of the toon. She loves it! I should have mounted it a little farther back to allow for more spin room, but that is on me.