Pontoon Boat Seats (PRG6383)
SKU: PRG6383-300
Note: pontoon boat seats must be supported against railing.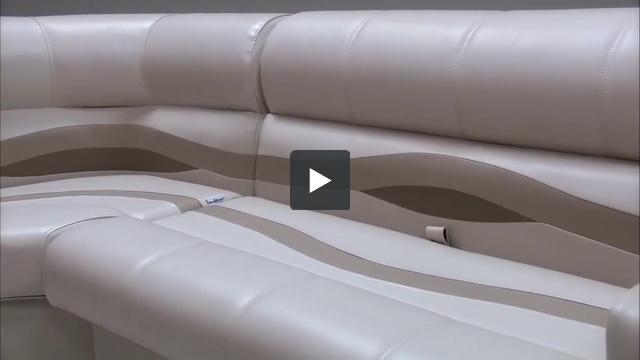 Premium Pontoon Boat Seats
Our Premium Pontoon Boat Seats

 

use plush, pillowed seat cushions with a mixture of soft and dense marine foam for all-day comfort. We use double-top & standard-top stitching on all stress points, so you never need worry about torn seams. Our pontoon boat seats look new longer! 
Our pontoon seats will last! The quality of your vinyl and foam won't matter if your seams tear or rot that's why we only use the best UV and mildew treated polyester thread. 
30 oz marine grade seat vinyl is coated and treated to exceed industry standards for UV and mildew resistance.

Our pontoon boat seat cushions are built with a mix of soft and dense foam to give you support and comfort where it matters most. Our Premium pontoon boat seats are built with thicker, softer seat cushions.

Seat bases with molded drain channels increase the life of your pontoon flooring

 

by allowing water to escape your deck instead of being trapped and left to soak into your carpet and decking.
No wood!

 

All of our pontoon furniture frames are plastic. We use injection-molded plastic seat cushion frames and rotationally molded plastic seat bases.
High-grade stainless steel hardware and staples

 

are used on our pontoon seats, along with t-nuts, which are inserted into the plastic bases to secure each pontoon seat cushion.
Pontoon Boat Seat Dimensions:
63" minimum needed across rear of pontoon to install pontoon furniture
83" minimum needed up port side for pontoon boat seating
(1) 55" pontoon boat lounge seats
(1) 28" pontoon boat corner seat
(1) 28" pontoon boat bench seat
(1) Right side pontoon boat seat arm with cup holders
Mounting hardware is included to secure seat bases to the deck of your pontoon boat
Our History
PontoonStuff® was founded on the idea that rebuilding a pontoon boat should be affordable and that you shouldn't need a payment to get that new boat feeling. With factory-grade pontoon furniture, flooring, and parts, we make it affordable to have a great-looking pontoon boat again!
Here are some quick facts about us:
We've been in business since 2005, and have helped over 200,000 customers fix up their pontoons. We sell to an average of 35,000 new customers per year.
We sell more replacement pontoon boat seats than all other marine retailers combined, and focus on offering everything you need for your pontoon restoration.
Designing, building, and selling our pontoon boat seats directly gives us a big advantage: We can invest more in quality because we control the entire process. 
All products are stocked and shipped from our facilities in Elkhart, IN and Dalton, GA.
Before building our own DeckMate brand of pontoon furniture in 2012, we sold nearly every brand of replacement pontoon seating, so we understand what makes a high-quality seat. Because of our experience with other seat brands, we knew where to focus our efforts in order to offer superior quality pontoon boat seats.
PontoonStuff® Quality Promise 
Our success is tied directly to our ability to provide you with quality products and the best customer service. Quality and excellent service are our top priority!
Industry leading warranty - 6 year full replacement

 

on any defective pontoon furniture. No other pontoon boat seat manufacturer offers this level of service because no other manufacturer uses the same quality of materials.
If your pontoon boat furniture arrives with any defects or quality issues, we will pay to return and replace your pontoon boat seats immediately.
We pay all costs associated with any damaged or defective seating. There is never any cost to you.
100% transferable warranty - if you sell your pontoon boat, the buyer is covered. If you're a second owner, just provide us with the original owner's name or order number.
You're making a big investment with your time and money when you choose to restore a pontoon boat. Making sure all of our customers know we will support them after the sale is important to us. We will take care of any problems you have quickly and at no cost to you, as we personally warranty everything we sell.
* For more information about our warranty, please click here or call (877) 295-9522.
Orders over $100 is FREE! Place an order by 4pm EST (Mon - Fri) and we'll ship it the same day! For additional shipping information, please click here. 
If you are not completely satisfied with the quality of your product, you may request a return for any unused and undamaged merchandise up to 30 days after date of delivery for a complete refund (excluding cost of return shipping). For more information about returns, please click here. 
These pontoon boat seats make up our Premium PRG6383 pontoon furniture set.
1 - 55" pontoon boat lounge seats
1 - 28" pontoon boat corner seat
1 - 28" pontoon boat bench seat
1 - Right side pontoon boat seat arms with cup holders
1 – Insert stud bolts (E) into the T-Nuts located in the black plastic bar on the bottom of the Back Rest Cushion.

2 – Place the Back Rest within the designated spaces and secure and tighten the 1" Washers © with the Wing Nuts (B) from the inside of the base.

3 – Align hinges attached to the Seat Cushion with the inserts located on the front of the base.

4 – Secure the Seat Cushion to the base with the 1/2" Bolts (D) (You can adjust the hinges left and right, up and down, to get the best fit.)
Click the Ask a Question button.
I measured my rear and got 99 inches from port side to starboard side what size furniture do I get.....I also measured from the rear fence to middle gate and got 131 1/2 inches we are hoping to get a wrap around seat for that whole side and back do Is this possible

You would want to pick out what combination of seating you would like. The Pontoon Groupings are just for convenience. Please email (support@pontoonstuff.com) us when you have the following measurments from this link. https://www.pontoonstuff.com/pages/replacement-pontoon-boat-seats

Can they be purchased without the base. I just need to replace the cushions and would rather not get into the extra work.

Unfortunately we do not offer just our pontoon seat cushions. The reason is they are designed to fit our bases only and the way they attach and the size of them makes it impossible for the seats to mount on furniture made by another manufacturer. The back rest cushions have an attachement design on the bottom that mates into our plastic seat bases. Thank you for the opportunity.

can i get a set with a left hand cup holder instead of the right one in the picture?

Yes absolutely but we don't have that exact layout pre-built like this one. If you jump on our Deck Designer software you can build out your interior easily and it will price it out for you.

https://www.pontoonstuff.com/pages/deckdesigner

How tall is this

30" is the total height of each pontoon seat. Looks like we are missing some furniture dimensions on this page, I'll make sure we get it updated ASAP. Thank you for your question and the opportunity!

Can i get cup holder left side

Yes, you would need to order a Left Arm Rest Separately to add to this package.